Office Crates Hire – Free Quotes & Site Surveys
Super Easy Ways to use Office crate hire
Office Crates Hire moving office is like hiking on the Mount Everest. It means moving the office needs great care and strength. It is a very painstaking and time consuming work. In the office, we may have big as well as many small items. The moving of small items like stationary, crockery, and documents etc. is a tough job. In offices every company keeps the secret or the strategies of its company; that's why keeping them all secure is very obligatory.
Premium crate hire without the premium price. Fast next-day delivery* including porterage
When it comes to moving office then we need to hire the crates for packing and storing purpose. Office Crates Hire we can find the heavy duty plastic rental crates that come in a wide range of sizes. These crates can be considered as ideal for packing and household items because the crates are made of heavy duty plastic which gives protection and safety to our objects or goods. Your subjects will be safely stowed inside and much fewer likely to organise any moving damage. You can rent out the solid crates even through the internet.
Moving Office ? We can help you… Office Relocation, Crates hire , Man and Van London , Domestic Removals and much more….
The crates are specially designed to handle the pressure and keep the goods in a fine condition. Many crate hire companies provide the wide range of crates, handling equipment and packing. Hiring the crates makes perfect sense, as crate hiring means that there is no need for any large capital expenditure, it allows you to use a complete and flexible in the exact number of boxes which you need. These boxes are also portable and easy to adjust. This great solution of packing gives you affordable and cheaper costs.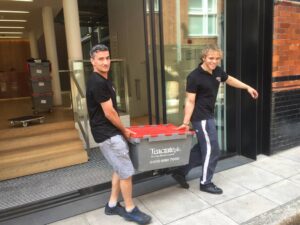 Let's discuss some of the main reasons for hiring these crates:
It is strong and clear storage box.

It is portable and easy to carry.

It can be moved easily with no stress.

it can take a huge stock of goods.

covers a wide range of packing goods.

It can be hired on the weekly basis.

The crates can be booked online.

renting the crates is more efficient way to move the office items.

Easy to carry.
MTC Removals Crates hire in London
After analyzing the remunerations of renting the crates it is a good option to hire these boxes rather than to purchase it. In moving the offices there are too many things which need to be carried near you. To put those things in the van or bus will not be safe. Those could be saved only in the boxes like crates. The use of the crates not only gives the protection to the items but also saves them from theft or any kind of theft.
You can find crates of any size. There is a range of crates sizes. Office Crates Hire you just have to order the size of your requirement. The crate as space covers many items as well as protects them. So, hiring the crates especially for office purpose is a great idea. It can be provided to the employees too in order to keep their important data and documents with them. The crates lessen the danger of damages of the entities.
The Fast And Easy Way To Hire Moving Crates Everything you need to make your Office or Home Move Easy.